Basalt is among nature's most beautiful products. Formed of igneous (volcanic) rock, this impressively hard stone blends into both indoor and outdoor environments and can truly stand the test of time.
If you're thinking about using natural basalt stone tiles in your home design, join us as we look at a number of exciting, unique applications found on popular interior design site, Houzz.
1. Modern pool surrounds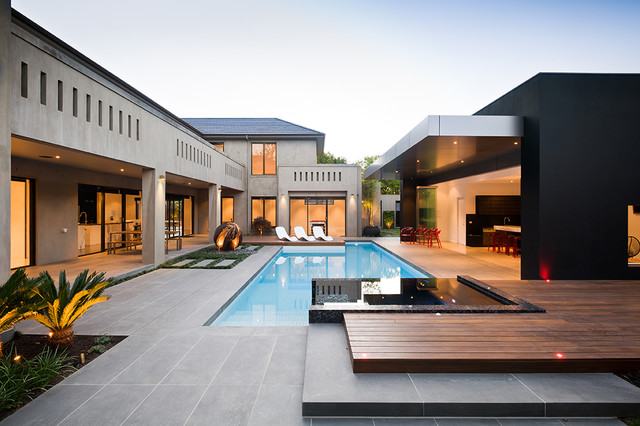 In this Melbourne home, beautiful large basalt tiles have been used to create a luxurious outdoor escape. These 500 x 1,000 mm tiles are perfect for such a space, creating flawless lines to elongate the space and produce a smooth, comfortable feeling underfoot.
The natural grey basalt is offset against warm stained-wood decking, organic greenery and yellow lighting to making this courtyard pool inviting and gloriously balanced.
2. Contemporary feature piece
Here we really see basalt shine. As the star of this room's design, a large dividing column clad in polished basalt tiles steals the show. Both practical and aesthetic, this column divides an open-plan master bedroom and ensuite while housing a gas fireplace and centring the room.
The basalt tiles make a bold statement, breaking up the softness of the bedroom with their natural rigidity – but without feeling out of place. Meanwhile, the slightly warm grey keeps the stone looking organic and stunning.
3. Rustic bathroom cladding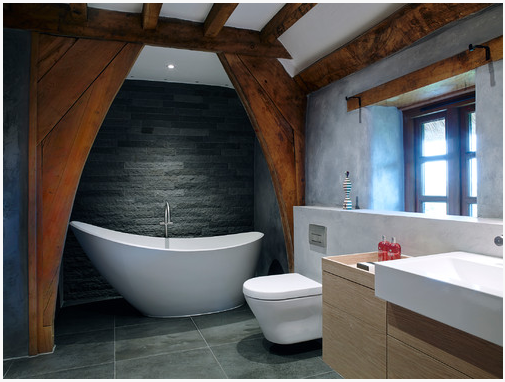 Modern meets rustic in this unique character bathroom. Cool concrete walls and ceramic fixtures are offset by an irregular, artistic oak archway, which beautifully frames a basalt feature wall.
The designers have chosen to use a rough-hewn split face basalt here. These natural textures help to complement the country feeling of the oak features, while balancing the modernity of the rest of the bathroom. Being positioned in a small alcove, these organic aspects of the room create a warm, private space for an intimate evening's soak.
4. Statement splashback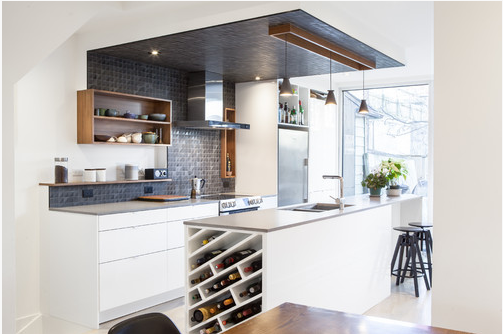 Let's talk about bold decisions.
This Canadian kitchen's splashback stands out for two reasons: The first, it's unique folding up across the ceiling. The second, the outstanding contrast between a largely white kitchen and the moodiness and texture of basalt tiles.
In using smaller tiles, the designer has created ample texture without having to use a rough finish, which would have made cleaning spills impractical. The varied tones of basalt immediately draw the eye, creating a defined space for cooking and bringing people together, as a kitchen should.
Wooden accents in the shelving and light fixtures help to break up the basalt and keep the kitchen feeling cosy and familial.
5. Beach house outdoor shower surrounds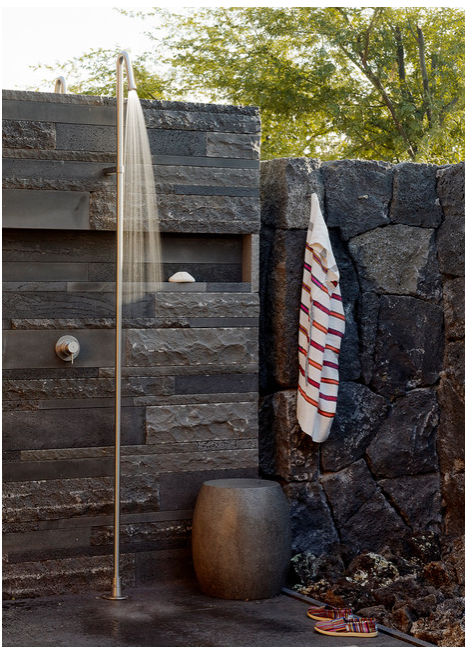 Who says you can't wash off from the beach in style?
Here we see an outdoor shower that's been set against a mixture of basalt tiles in different finishes, including split face and honed. This is a great way to add interest and polish to an outdoor feature, and potentially use up leftover stone from other areas of the home.
The mixtures of textures creates visual intrigue, while also defining the space clearly – separating the shower from the rough stone fence to its side.
Basalt is a wonderfully hard stone and perfect for use both outdoors and indoors. That said, it is a porous stone, so when using it in wet areas such as pools and bathrooms, it's important to seal basalt properly to prevent damage.
Dreaming of a natural stone paradise in your home? To get the basalt you need for your project, get in touch with SHC Group today.