BURNT DOLOMITE CaMg(CO3)2
1. The chemical composition
Chemical formula: CaMg(CO3)2
Name: Dolomite - natural calcium and magnesium carbonate. This mineral was named in honor of D. Dolomieu (1750 - 1801) - French Mineralogist and Chemist who discovered the new mineral on an Alps expedition. Lava containing up to 95% dolomite is also called dolomite.
Other names: Miricalcit.
Dolomite synonyms: Ridolfit, Taraspit.
2. Main Characteristics
After burning, it is usually gray white, milk
Due to the high content of CaO, avoid moisture
3. Application of Dolomite

In steel and metallurgical industry
Dolomite is added to make slag.
Limiting the melting of furnace walls.
De-sulfur, phosphorus
Keep heat to liquid metal.
Protection of liquid metals from oxidation
Agricultural
Improve and stabilize soil pH, reduce acidity, reduce acidity, loosen soil.
Restrict, inhibit the growth of insects, nematodes, fungal damage the root system, which helps develop a healthy root system, antibacterial.
Helping plants avoid yellowing, falling young fruit, caused by lack of calcium and magnesium.
Provide adequate secondary substances calcium, magnesium for soil and plants, make plants strong photosynthesis, increase productivity and quality of agricultural products.
Use for all crops
Depending on the pH of the soil
The amount of fertilizer: 150 - 250 kg / 1000m2 Before or after fertilizing for 3 to 5 weeks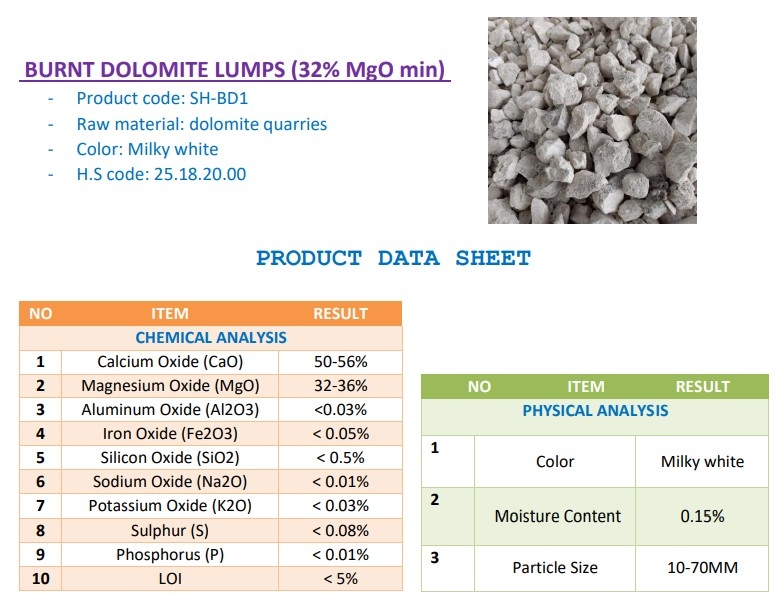 Calcined dolomite is obtained by the calcination of dolomite, with a high content in calcium and magnesium carbonate CaMg(CO3)2
This product has mainly steel applications to improve slagging and to lengthen the lifespan of the refractory linings of ovens and ladles. Also, in metallurgy, chemistry, manufacture of refractory bricks and in stabilization in the process of manufacture of glass, improving its resistance to the aggression of gases and humidity. It can also be used in waste water and sludge treatment, as well as in fertilization and conditioning of terrains.
CaO: 50,00%Min
MgO: 32,00%Min
SiO2: 1,00%Max
Size: 10 - 70mm.
Packing in Jumbo Bag 1.40 MT/bag
Contact us for Burnt Dolomite:
VIET NAM TECHNOLOGY MINERALS JSC - SHC GROUP
Mr. Steve (International Sales manager - Minerals Divisions)
WhatsApp: +84 93 618 1398
Email: export4@shcgroup.vn