HYDRATED LIME IN CHEMICAL MANUFACTURING
HYDRATED LIME - SLAKED LIME - CALCIUM HYDROXIDE - CA(OH)2
Hydrated Lime or Calcium Hydroxide is an inorganic calcium compound available in a dry powdered form. As it is produced using a hydration technique or adding water at manufacturing which is also termed as slaking, hydrated lime is also known as slaked lime powder. Due to the properties that it has, the substance is widely used in the chemical industry for varied purposes.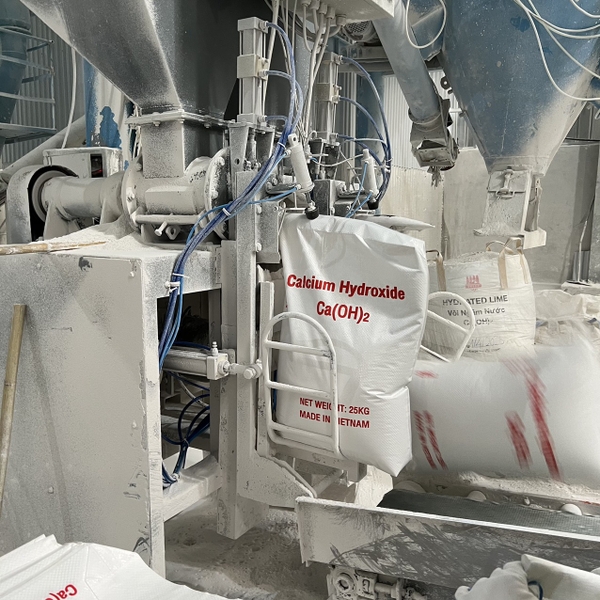 1. Regenerating Citric Acid
Lime is mostly used to purify citric acid. The citric acid solution is first thoroughly filtered to isolate its characteristics and remove any suspended materials from it. Hydrated lime is added to this filtered solution to further purify it. Calcium citrate as a result separates from the solution and is eliminated. As calcium and sulfuric acid combine to make precipitated calcium sulfate, sulfuric acid is additionally added to this mixture to renew citric acid.
2. Making Calcium Soap for Cattle Feed or Pet Feed
Slaked lime is a crucial chemical ingredient used in the production of a particular kind of soap and is also used as an excellent source of calcium for cows and other animals as a feed supplement. For the saponification process, slaked lime and natural oils and fats are combined. These parts are heated and then applied to a situation with decreasing pressure. Calcium readily combines with the fatty acid without additional washing or concentration steps. If the proportion of fatty acids is large, it is recommended to use the soap as a supplement in animal feed. Glycerol or another emulsifying agent is used during production to improvise this soap product for monogastric animals (simple chambered stomach animals as cats, dogs, etc.).




Also, Hydrated lime is a highly cost effective method for treating sewage sludge and animal waste from concentrated animal feeding operations.
3. Production of Ammonia Gas
Ammonia and soda are utilized in the production of sodium carbonate. Ammonium chloride is produced by this technique. On the other hand, ammonium chloride is produced when sodium chloride solutions and ammonium sulfate react. Ammonia gas is the end product that is produced if one of the two procedures involves the step of combining the ingredients with slaked lime. Basically, a combination of slaked lime and ammonium chloride, which can be made in a variety of ways, can aid in the creation of ammonia gas.
4. Manufacturing Dicalcium Phosphate
Use of hydrated lime or calcium hydroxide in the phosphoric acid neutralization process. In this reaction, the anhydrous form of the compound eventually precipitates to form dicalcium phosphate, while the solid form of dihydrate precipitates at a temperature of 60 oC. Popular uses for this finished product include polishing tasks and the tooth paste business.
5. Producing Calcium Hypochlorite Bleaches
Calcium hypochlorite bleaches are created by mixing hydrated lime, or CA(OH), with hypochlorous acid and adding the mixture to an aquaeous medium in the appropriate ratio. The pH of this aqueous medium must be between 10.0 and 10.5, and it must contain calcium hypochlorite and calcium chloride. These bleaches are also used in the paper and pulp sector as well as for cleaning swimming pools.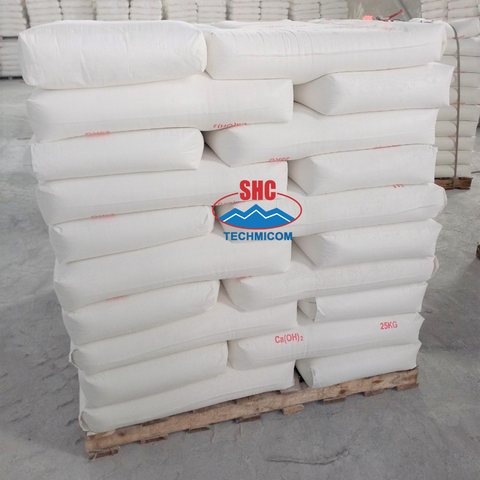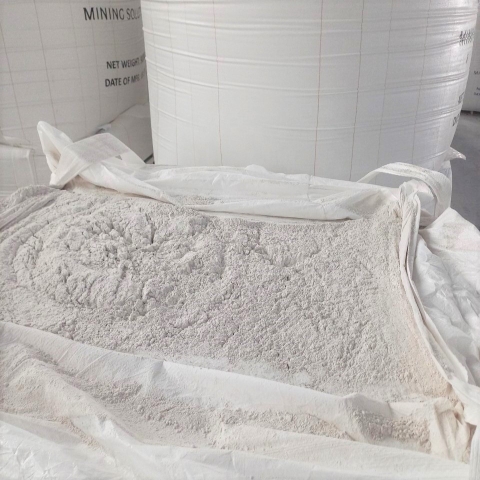 Viet Nam Technology Mineral Company JSC is a reliable supplier who can supply your manufacturers the top-notch quality Hydrated Lime. With over 10-year experience of manufacturing Hydrated Lime so now we are well-known by many Buyers and Partners in domestic as well as foreign markets. Our products are available on many demanding markets such as American, Canada, Chile, Brazil, Australia, India, Bangladesh, South Korea, Japan, Turkey, Singapore, UAE, Kuwait, Saudi Arabia, Ireland,...
We are now supplying Hydrated Lime Powder with high purity - min 92% Calcium Hydroxide Ca(OH)2
HYDRATED LIME SPECIFICATION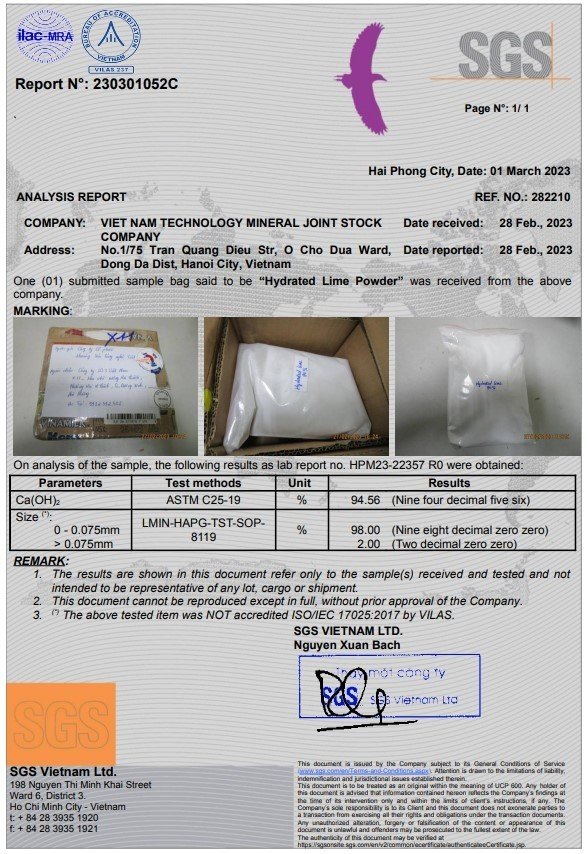 ----------------------------------------------------- CONTACT US ----------------------------------------------------
VIET NAM TECHNOLOGY MINERALS JSC - SHC GROUP
Ms. Jasmine (Sales Executive)
WhatsApp: +84 93 61 65 098
Email: export8@shcgroup.vn