KAOLIN is one of the more important industrial clay minerals. Kaolin is comprised predominantly of the mineral kaolinite, a hydrated aluminum silicate. Kaolinite, which is the dominant mineral in kaolin deposits, is a common clay mineral, but the relatively pure and commercially useable deposits are few in number. Kaolinite has physical and chemical properties which make it useful in a great number of applications. One of the most important applications of kaolin is coating and filling paper. As filler, the kaolin is mixed with the cellulose fibers in wood pulp and as a coating; the kaolin is mixed with water, adhesives, and various additives and coated onto the surface of the paper. The coating makes the paper sheet smoother, brighter, glossier, more opaque, and most importantly, improves the printability. Paper that is not coated is made up of cellulose fibers interwoven in a random and open configuration.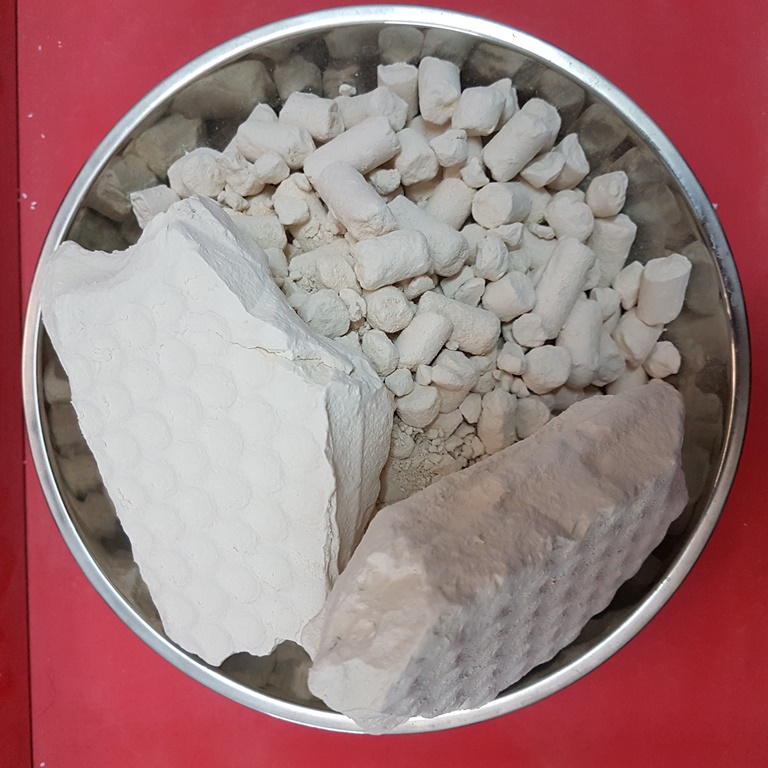 KAOLIN'S SPECIFICATION
Silica Oxide (SiO2): 47.83%

Iron Oxide (Fe2O3): 0.5%

Magnesium Oxide (MgO): 0.06%

Aluminium Oxide (Al2O3): 36.87%

Titanium Oxide (TiO2): 0.02%

Calcium Oxide (CaO): 0.08%

Natrium Oxide (Na2O): 0.2%

Alkalin Oxide (K2O): 0.82%

L.O.I: 13.45%

Moisture: 18.5%

Hardness: 2.3 Moh

Color: white

Size: 200-325mesh

Formular: Al2Si2O5(OH)4
APPLICATIONS OF KAOLIN
Our product is much used in Ceramic application.
PACKING & LOADING
1/ Packing: Small bag 25kg, 50kg and Jumbo bag 1,000kg, 1,300kg
2/ Loading: 20-26 metric tons per container 20feet without pallet
TRANSPORTATION TERM
Our factory is located in Phu Tho province so it is easy to take cargo to Haiphong seaport for exporting. For each shipment, we can arrange from 10-40 containers 20feet from factory to port within 10 days.
We are using service of MCC, PIL, K-Line, One Line, Cosco, Pacific Line, Zim, Heung-A, KMTC, CMA CGM and China shipping to transport cargo to any port over the world.
COMPANY DETAIL
No.18 Son Ha Minerals Company Limited is one of leading manufacturer and exporter in Limestone, calcium carbonate, Dolomite, Pebble, Tumbled Stone, Quick Lime and Kaolin. Our HQ is located in Hanam province and our business office is loacated in Hanoi city, Vietnam.
With over 10 years of manufacturing Limestone in Hanam and Yen Bai province so we are well-known by many Buyer and Partner in Domestic as well as foreign markets. We are exporting all products out of aboard by sea shipment such as Bangladesh, Korea, Japan, Singapore, Turkey, America, Australia, Malaysia and Indonesia.
At this time, we have total 56 peoples who are hard working day by day to control all orders for clients. We are planing to reach goal of 400 containers for oversea per month. Hope the result can be setted by end of 2019.
With us, quality is prior and the second is service. For that, we request all staffs who are directly control produciton and taking care client freely give new idea to improve quality, capacity during work. We commit to partners and buyers that we do by our hearity for each product, each shipment, each cooperation.
WE SERVE VALUED PRODUCT, WE HAVE VALUED BUSSINESS!
Telephone: +84 936 212 598
Hotline: +84 986 358 011 (Whatsapp / Wechat) - Mr. Thomas
Email: export2@shcgroup.vn
Skype: export2@shcgroup.vn