There are several ideas to decorate the exterior living space such as bonsai plants, trees, flowers, decorative stones or chairs. Here are 6 types of decorative stones and gravel to keep in mind when designing your home landscape on hardscape.
Aggregates
If you're looking to add decoration to your backyard design or front yard flower bed, aggregates are the perfect accent stones. Ranging from small decorative pea gravel to large boulders, aggregates can help give your landscape some personality and texture, while also helping with water drainage and moisture control.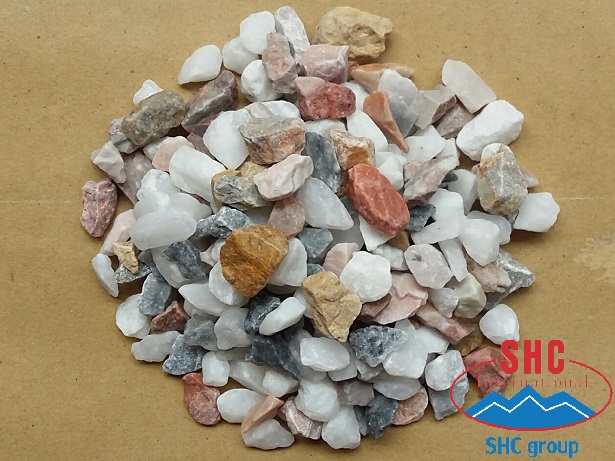 Pebble Gravel
Thanks to mother nature, these little pebbles come polished and colorful. Wind and water work hand in hand to wear and smooth down big rocks into pea gravel. These tiny stones are perfect for ground covering. They are light enough to place in your flowerbeds and small enough to fill crevices in between larger flagstone slates.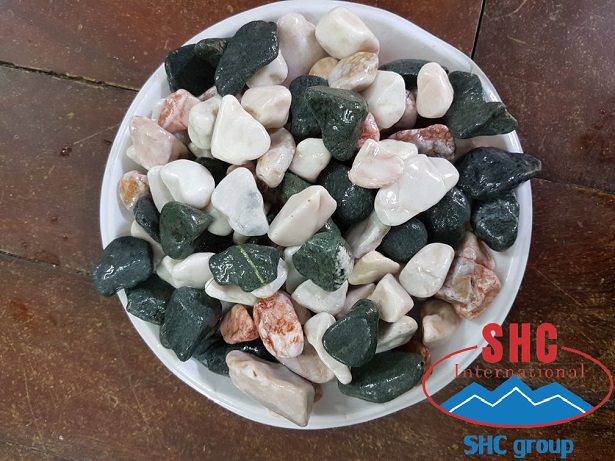 River Rocks
If you're looking for that same glossy finish that pea gravel offers but want something a little bigger, river rocks are perfect. Not only are the incredibly versatile, but they are also very practical. Use river rocks to edge around flower beds, create a dry creek bed, or stack them on top of one another to make a retaining wall. River rocks are perfect for bringing a rustic, charming part of nature into your home landscape.
Lava Rock
Lava rock is exactly what it sounds like. It comes from volcanic domes and is very versatile. Not only does it come in a variety of colors, ranging from coal black to vibrant red, but it also comes in a wide variety of sizes as well. These are especially popular in dry climates where rain is scarce as you can use lava rock in substitute of grass or mulch. It's lightweight and can retain water and heat well which will keep your garden flourishing in the hot weather.
Boulders
Looking for a beautiful statement piece to add to your landscaping design. Try adding a large boulder to your flower beds to create symmetry and texture. Paired with accent lighting, large boulders can add depth and drama to your home. Smaller boulders are also great for embellishing a water feature or garden beds given that water makes them sparkle.
Flagstone
Landscaping with flagstone is a great way to create a modern, yet rustic landscape that is barefoot-friendly. Not only can flagstone be custom cut to fit your landscaping needs, but it also comes in a variety of colors, thickness, and textures. It's perfect for creating a walkway, patio, and even stepping stones.
Limestone
From natural-looking pathways to secure walls, limestone has endless applications. Its gentle finish helps create a soft design and is great for walking on. Most commonly used in walkways and patios, limestone can be sanded down to a variety of textures and helps give your home that charming look. Additionally, limestone has wonderful drainage that will help your Victorian garden stand out.
Sandstone
Fitting to its name, sandstone has a sandy look to it. The tiny grains can add great architecture to your home. It also comes in a variety of colors. Bluestone is a common type of sandstone used to create clean lines and modern drama to your home. This decorative stone still has a smooth finish so you don't have to worry about rough or sharp surfaces.
If you are looking for Decorative Pebbles Gravel to beautify your house, our pebbles will meet up with your demand on both quantity and quality; please don't hesitate to contact us to have the best offer and more details of our products.
NO.18 SON HA MINERALS COMPANY LIMITED
Factory: Mam Xoi Mountain, Thanh Son Commune, Kim Bang District, Ha Nam Province, VN
Telephone: +84 931 717 698 Fax: +84243.5190937
Hotline: +84 932 222 698 (Ms. Anna) / +84 931 717 698 (Mr. Henry)
Email: export1.shcgroup@gmail.com (Ms. Anna) // manager.shcgroup@gmail.com (Mr. Henry)
Skype: export1.shcgroup